Economy and production
With a population of about 787 thousand people, Bhutan itself has a small domestic market. Nonetheless, there are varied opportunities for small and medium-sized investors as well as larger transnational corporations (TNCs), such as in the tourism sector and related up- and downstream services. Construction is booming due to rapid urbanization, particularly around Thimphu, as well as due to hydropower projects, which are the most important driver of economic growth. Public–private partnerships (PPPs) are encouraged for infrastructure projects.
Domestic consumption is largely dependent on imports, potentially opening up opportunities in import substitution.
The country has an estimated population of 787,376 and a GPD per capita of US $ 2,719 as of 2015, one the highest in South Asia.
Economic composition
Bhutan's GDP was recorded at US$ 2 billion in 2015 with GDP per capita of US $ 2,719, one the highest in South Asia. After the economic slowdown in the year 2013, the GDP gradually rebounced to moderate growth rate of 6.49 percent in 2015, up by 0.75 percentage points from 5.75 percent in the year 2014. The growth was mainly driven by the industry sector, particularly, construction sector with the growth of 10.33 percent, and by the strong performance of electricity sector with 7.44 percent growth in 2015.
Imports and exports
India is Bhutan's major trading partner both in terms of exports and imports. The list of top imports of the country includes oils and preparations (diesel), ferrous products, motor spirit, coke and semi coke, husked (brown) rice etc. In the export basket, commodities such electricity, ferro-silicon, semi-finished products of iron, Portland pozzolana cement, gypsum, silicon of carbides, cardamoms, potatoes etc tops the list.
Market access
While Bhutan's domestic market is small in size, the country's special relationship with India offers duty free access to the largest market in South Asia (US$ 1.88 trillion GDP averaging 11.7 percent annual growth over ten years) and preferential access to the sub-continent through SAFTA. Duty free and preferential access also exists on certain goods to the EU, US and certain countries in the region.
Access to the Chinese market is limited as Bhutan does not have trade agreement with the country. Nevertheless, trading is prevalent between the two countries.
Regional and international markets
The country is member of the following regional organizations and trade agreements
Tourism
Bhutan's tourism potential lies in its unique value propositions of pristine and untouched nature, rich and living culture, and mental and spiritual wellness. The country's all-embracing GNH philosophy is a tourist attraction in itself and the guiding principle for the Government's "high value, low impact" tourism strategy, which positions Bhutan as an exclusive destination while preserving the country's natural and cultural heritage. A central feature of this approach is a price floor that requires every tourist to pay a minimum daily all-inclusive package rate of US$ 200 to 250 per day per person. (Package cost varies according to season and includes: accommodation in a minimum three star category accommodation, meals, transport, guides and equipment for trekking.)
All aspects of tourism policy and regulation are coordinated by the country's central tourism authority, the Tourism Council of Bhutan (TCB).
The number of visitor arrivals climbed to 133,000 visitors in 2014, a 15 percent increase on the previous year of which 68,000 were from outside the region. This brought in US$ 73.2 million in earnings. The table below shows breakdown of arrivals by country. However, given their longer stays in Bhutan, tourists from the United States brought most income per head, followed by the United Kingdom and Germany. Overall, fast growth of the tourism sector gives rise to numerous other opportunities in complementary services such as transport, telecommunications, banking, insurance and other business services.
Table: Breakdown of arrivals by country
| | |
| --- | --- |
| Country | Number |
| India | 62,129 |
| Thailand | 12,105 |
| China | 8,111 |
| United States | 7,291 |
| Germany | 2,971 |
Source: Tourism Council of Bhutan

Arrivals are subject to strong seasonal variation driven by weather and the occurrence of cultural festivities, with the majority of tourists arriving in spring (March to May) and autumn (September to November).
Currently, most of Bhutan's hotel capacities are located in the western circuit around Paro, Thimphu, and Punakha. The region is home to several cultural festivals (Tsechus) and numerous religious sites, including the prominent "Tiger's Nest" temple complex. It is also the region that is easiest to access for international tourists. In addition, there are several hiking and cross-country cycling trails. Accordingly, international luxury hotel chains have successfully established high-end properties in this region.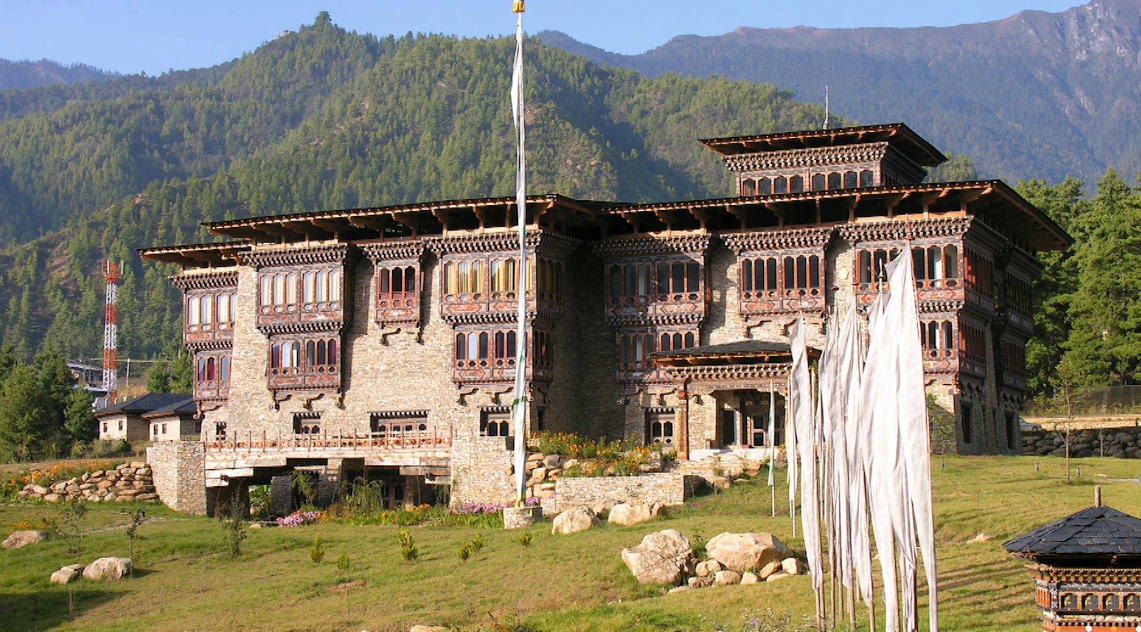 The Government sees foreign investors as key to development of the sector and promotes investments into four- and five-star hotels and resorts throughout the country. 

Tourism is encouraged focusing on nature-based activities, including adventure tourism (rafting, trekking, mountain biking, ballooning) and safari-like ecotourism (camping, wildlife, bird and butterfly watching). Based on the country's strong Buddhist heritage, the TCB also promotes spiritual wellness and spa offerings. Moreover, there is scope for development of hospitality services for meetings, incentives, conferencing, and exhibitions.
In terms of regions, the Government aims to promote a more diversified tourist offering in Bhutan's central, south and eastern regions. 
Bhutan's current FDI policy allows up to 100 per cent ownership of projects establishing luxury hotels and resorts (five stars and above) and up to 74 per cent ownership of projects establishing four-star hotels. The Government also allows full foreign ownership for the development of outdoor sports and recreational facilities.
Beyond the general provisions for foreign investors, the Government provides sector-specific fiscal and non-fiscal incentives, including:
Ten-year income tax holiday for high-end hotels and resorts established by end 2015;

Exemption of customs duty and sales tax on imports of outdoor equipment, kitchen equipment, hotel furniture, fixtures and selected goods;

Full repatriation of dividends in the currency of earnings;

Up to 500 acres (approximately 202.3 hectares) of earmarked land for tourism development, available for a renewable lease period of up to 30 years; and

Fast-tracked, single-window clearance process for tourism-related projects through the Tourism Council of Bhutan, including for the leasing of new land.
Power generation

Bhutan has a vast capacity for hydropower generation. Its deep valleys and swift rivers allow run-of-the-river type hydropower projects. Since 1974, when the first major project was undertaken in cooperation with the Government of India, hydropower has become the primary source of energy for meeting domestic energy demand.
Most importantly, export revenues from water-generated electricity have become an important engine of growth for Bhutan's economy, which exports 75 percent of production to India, a country that also acts as financier for many hydropower projects. Meanwhile 72 percent of domestic consumption is by heavy industries at the Indian border.
The installed capacity of the existing hydropower plants stands at 1,606 megawatts, which accounts for about 5 per cent of the total hydropower potential of the country. Actual generation, however, is strongly dependent on seasonal water flows. In Bhutan's dry winter season from November to February, when river flows decrease sharply, generation capacity drops to about 300 megawatts, close to domestic demand.
Infrastructure
Bhutan's rapid socioeconomic development and urbanization has put pressure on the country's physical infrastructure, requiring expansion and upgrading of the transport network and the construction of numerous industrial facilities as well as residential and non-residential buildings. 
Given the lack of both technical capacity as well as skilled labour in domestic construction companies, numerous opportunities open up for foreign investors in the design, construction and operation of large-scale infrastructure and general building projects. Significant demand exists for projects in the areas of airport infrastructure, highways, bridges, viaducts, elevated highways, tunnels, ropeways/cable cars, logistics facilities such as dry ports, land reclamation, geotechnical and hydraulic engineering, sewerage infrastructure, water management, residential buildings, and recreational facilities. Bhutan's rugged topography, widespread surface erosion, and extreme weather conditions pose significant construction challenges and open opportunities for specialized international contractors.
In 2010, the Government formalized a framework for the implementation of infrastructure projects through PPP models. The framework provides for a transparent and competitive procurement process following internationally accepted practice. In addition, the framework allows the Government to choose PPP investors as strategic partners without selection process for ventures with up to 26 per cent foreign ownership. It also prescribes that government-owned companies such as DHI, the sovereign development and holding company, have to follow fair and transparent bidding procedures similar to the provisions set out in the framework. The framework provides flexibility with regards to the contractual design and partnership model (including but not limited to build-operate-transfer, build-own-operate-transfer, build-operate-lease-transfer). The Government is also working on development of a specific PPP policy.
Agriculture and related industries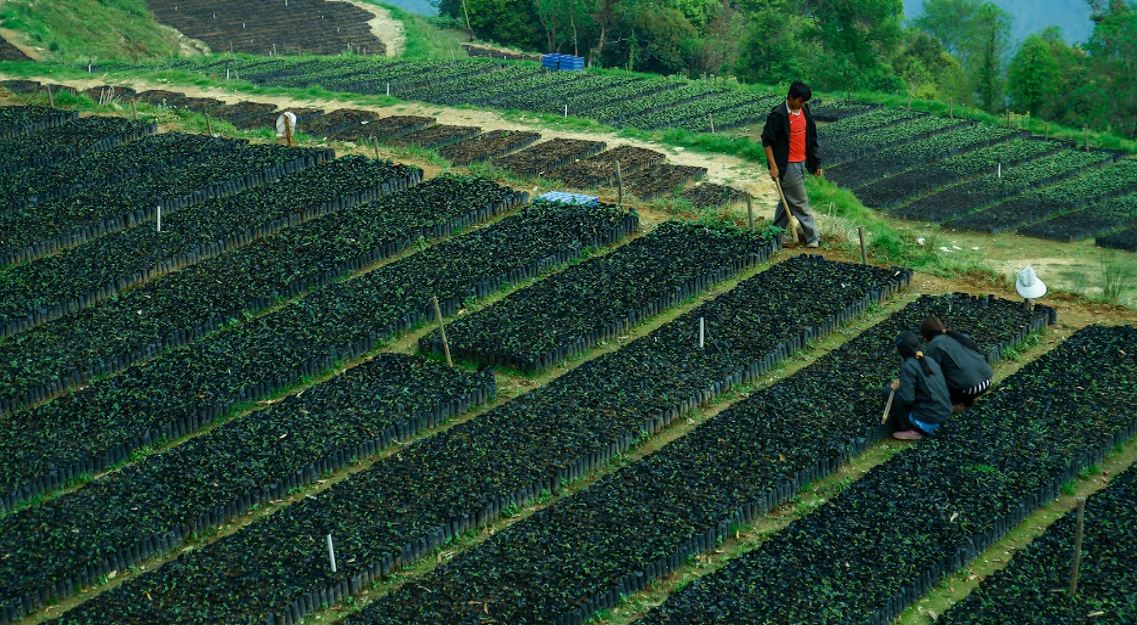 There is scope for a variety of foreign direct investments in the commercial agricultural sector and related industries, including in organic farming, biotech, poultry and dairy farming, floriculture, apiculture, horticulture, and premium food and beverage projects (see box below).
While the country's physical infrastructure and a lack of skilled labour are still concerns for larger-scale commercial operations, a significant number of farmers already engage in the production of cash crops such as fruits (mainly mandarin oranges and apples) and potatoes.
The commercialization of agriculture is one of Bhutan's primary development goals and investors can expect the Government to be very supportive of relevant FDI project proposals. 
The Government is also undertaking institutional reforms to facilitate investments, including an improved framework for agricultural financing and a comprehensive overhaul of the country's land use policy that would enable investors to gain easier access to large parcels of arable land.
As one of the Government's priority sectors, investments in the agricultural sector are eligible for sector-specific fiscal incentives. These include an exemption from sales tax and import duties for all farm machinery and any other agricultural inputs as well as a 10-year income tax holiday for commercial farming and related processing of its products units established before end 2015. FDI projects engaging in commercial farming of organic crops are eligible for a 15-year income tax holiday.
Veen mineral water
Originally established in Finland and currently Indian-owned, Veen supplies glass-bottle mineral water to high-end hotels and restaurants. While active in European markets, it had for some time been seeking a South Asian base to supply the Indian market. 
Bhutan was chosen based on its mountainous location, access to a good mineral water source, the image of Bhutan as high-end and pristine, duty-free access to the Indian market and easy access to government.
Production started in September 2014, with glass bottles, caps and labels brought in from India (due to lack of local manufacturing capacity) and boxes made locally by a solidarity project run by the army. As of June 2015, Veen was exporting 28 metric tonnes a month to India, supplying  Bangalore, Delhi, Mumbai, Culcutta and Guwahati. Veen also supplies hotels in Bhutan.
The firm is optimistic about the future and foresees expansion into PET bottles, flavoured water with Himalayan botanicals, and flavoured tonics.
Mountain Hazlenut Venture
The Mountain Hazelnut Venture, incorporated in 2010, works with out growers in rural areas to grow and harvest hazelnuts for processing and export. The company aims to invest about US$ 30 million, planting around 10 million hazelnut trees in Bhutan's remote eastern districts.
When the project reaches maturity around 2018, it could produce and export between 20,000 to 40,000 tons of hazelnuts annually. This would represent between 3 to 5 per cent of the global market, currently dominated by Turkey and Italy. By 2020, hazelnuts could account for a significant share of Bhutan's exports.
The company has contracted over 8,000 orchards to grow and harvest its hazelnut saplings with a guaranteed buy-back price for the nuts; the saplings are provided from a company-owned facility in Yunnan province, China. Orchards averaging about 1.5 acres, are run by families, nunneries, monasteries, schools and community groups. They are supported by a vast network of extension workers using motorbikes and mobile technology. The company directly employs 600 Bhutanese nationals, with a further 1,200 Bhutanese working as service providers.
The company is currently building a factory to process the nuts.
Aside from generating a profit, one of the goals of the company is to stem rural–urban migration by enabling farmers to generate a reliable and sustainable income without having to leave their traditional communities. The project also hopes to reduce soil degradation and improve rural market access. Information gathered by extension workers using mobile applications will also provide a rich database of agricultural information for further scientific analysis. It is estimated that a further 1,200 Bhutanese benefit from the project as service providers.
Information and communications technology
In addition to mainstreaming ICT as a tool to improve public service delivery and governance, IT and IT-enabled services (IT/ITES) feature prominently in the Government's private-sector development initiatives. The sector can effectively capitalize on Bhutan's strengths of high political stability, abundant and sustainable electricity, low unit labour costs and an English-speaking population.
Opportunities for investors include outsourcing of data centres, software development, business process outsourcing in the areas of back office operations, transaction processing, content development, design and animation, geographic information system services, and related sectors, both for export as well as for domestic consumption. Further opportunities might arise in up- or downstream services.
As part of the Government's efforts to create a favourable environment for foreign IT investors, the Thimphu TechPark was developed as a flagship ICT project near the country's capital (see box below).
Parallel to the development of physhical ICT infrastructure, the Government seeks to build a strong local talent base. It aims to increase IT literacy across schools by mainstreaming ICT related elements into secondary and tertiary curricula, training teachers and setting up computer labs in schools. 
The Government has fast tracked the business licensing process and put in place numerous incentives to attract international investors. IT/ ITES ventures established in context of the tech park are granted full foreign ownership, ventures outside the park are granted a maximum foreign ownership of 74 per cent. Beyond the facilities granted in the 2010 Economic Development Policy and the 2010 FDI Policy, the Government provides sector-specific fiscal and non-fiscal incentives for ICT projects established before the end of 2015, including:
Ten-year tax holiday for the operation of IT/ITES businesses within the tech park and exporting 80 per cent of their products or services;

Exemption of customs duty and sales tax on imports of computers, related hardware and

software;

Repatriation of dividends in the currency of earnings.

These are further described in Fiscal Incentives 2010.
Thimphu TechPark
Thimphu TechPark is the flagship IT development in Bhutan. It is the country's first IT Park - promoted by the Department of Information Technology & Telecom, Ministry of Information & Communications, supported by the World Bank and developed jointly by Assetz Property Group of Singapore, a leading development management corporation focused on South Asia, and Druk Holding & Investments.
The first development phase, providing 50,000 square feet of office and data centre space across a five-acre campus, was completed in 2011 and is now 45 percent occupied. 10,000 square feet of the space has already been absorbed by the Royal Government of Bhutan to house Bhutan Innovation and Technology Centre, which is an initiative to promote innovation and entrepreneurship in the country. Further expansion in the future is foreseen as the project spreads over 18 acres.
The park's infrastructure includes fully serviced offices and warm shell space with power and mains redundancy, a variety of business facilities such as a shared conference centre, video conferencing facilities, and a centralized online platform for printing, postal and transport services. To support smooth operation of the tech park, the Government continues to improve the country's general telecommunication infrastructure, including through the opening of a second international telecom gateway in the South of the country. In the longer term, the Government considering further technology parks.
Scan Café - restoring old photos
Scan Café is the world's largest photo editing company. Started in California, it has a strong customer base in the US and an expanding presence in Europe, Canada and Latin America. It allows its customers to send old photos for scanning, and if necessary, restoration and printing.
Photos are scanned in Bangalore, India. Those requiring restoration are sent to Scan Café's operation at Thimphu TechPark where they are edited by Bhutanese staff, burned onto a CD and returned to the customer. The same operation also undertakes desktop publishing to produce photo books of customers' photos, which are then printed back in the US.
From an original staff of 20 in June 2012, the operation employed 400 Bhutanese staff at the start of 2015, all trained in-house under a partnership with a local training institute.
Scan Café has cited the abundance of Bhutanese school leavers with artistic talent as a pull factor for the company, as well as low rental and electricity costs. It believes that increase in data transmission capacity and IT skills of school leavers could further improve Bhutan's potential in this field.
What investors think
Overall, private-sector representatives interviewed by UNCTAD are positive about the business environment in Bhutan. Most importantly, managers and investors consistently cited the Government's open, flexible, and forthcoming approach throughout all phases of the business establishment process and day-to-day operations. Bhutan is a virgin land in terms of FDI and it was often emphasized that the authorities are working proactively with potential investors to overcome hurdles that might result from the young regulatory framework.
Investors emphasized the Government's readiness to entertain innovative ideas that are in line with the country's development philosophy, giving investors the chance to define and shape entire sectors with numerous opportunities for investment.