Population and education
At the end of 2020, Barbados' population was estimated to be around 271,021, of which 48.4 percent were male and 51.6 percent female. The average life expectancy at birth is 78 years which is above the average life expectancy at birth of the global population (about 71 years), according to the Population Division of the Department of Economic and Social Affairs of the United Nations. Barbados also boasts of one of the highest rates of centenarians per capita in the world.

Barbados has a well-educated labour force comprising approximately 139,700 persons. The unemployment rate is around 10 percent.

Education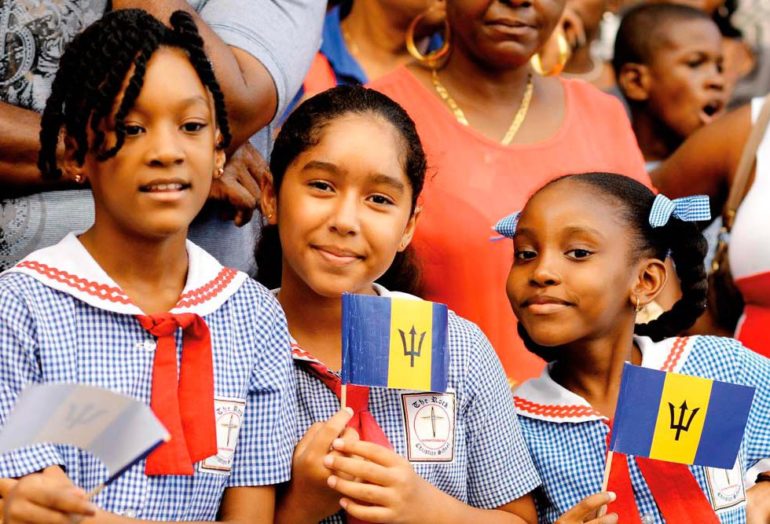 The Barbados education system is based on the British model and is compulsory for children between ages 5-16. Traditionally, education has benefited from a significant portion of the government's annual budget expenditure (over 20 percent) and it is provided free of cost to nationals at the primary, secondary and tertiary levels. There are also a number of privately operated schools on island which provide education at the primary and secondary levels on a fee-paying basis.
With a literacy rate of 98 percent, one of Barbados' greatest competitive advantages is its pool of well educated, skilled human resources. The UN Human Development Index 2020, ranks Barbados 8th in the Americas and 58th in the world in terms of educational attainment, as measured by adult literacy and enrolment at primary, secondary and tertiary level institutions.

Main tertiary level institutions:

University of the West Indies (UWI), Cave Hill Campus: undergraduate, graduate and post graduate programmes in a wide range of disciplines.

Barbados Community College (BCC): associate degree and bachelors degree programmes in select disciplines.

Barbados Hospitality Institute: operated by the BCC to provide practical training in all aspects of the hospitality industry.

Samuel Jackman Prescod Institute of Technology: technical and vocational training in a wide range of skills including electrical/mechanical engineering, human ecology, business, and auto mechanics.

Erdiston Teachers' Training College: training for both graduate and non-graduate teachers at certificate and diploma level.

Barbados Institute of Management and Productivity: certificate and diploma programmes for management level personnel.
American University of Barbados: the first offshore medical school to establish in Barbados began operations in February 2012. Provides medical training for domestic and international students.

Ross University School of Medicine: a subsidiary of Adtalem Global Education started operations in January 2019. It offers medical training and a nursing programme.

Additionally, the Barbados Vocational Training Board was set up by the government to provide technical and vocational training, while the Barbados Accreditation Council establishes guidelines, procedures and standards for training institutions seeking accredited status and also certifies whether those institutions meet the requirements.

Ministry of Education, Technological and Vocational Training
The Ministry of Education, Technological and Vocational Training is primarily responsible for the formulation of educational policies, the administration and regulation of education programmes, as well as national policy and programme development for science, technology, and innovation.

The Ministry is committed to a multi-sectoral approach in the delivery of educational services, placing emphasis on identifying  the needs of young people and addressing those needs through relevant programmes. Students benefit from a number of services including:
free primary and secondary level education

financing of text books
provision of computer equipment and supplies to schools
free daily lunch service for students at the primary school level

upkeep and maintenance of school premises

financing of undergraduate education at the University of the West Indies
financing of government scholarships, exhibitions and bursaries for nationals and citizens of Barbados

access to concessionary financing for higher education through the Student Revolving Loan Fund

Employment and contracts
The Employment Rights Act requires employers to provide employees with a written statement of employment particulars on commencement of work. The statement must contain certain details including, job title and description of the duties to be performed, wages rates, normal working hours, period of probation, notice required to terminate the contract, disciplinary and grievance procedures, policies with respect to holidays, sickness/injury, period of employment if temporary, to mention a few.

Where a probationary period is included, this is generally for three months but may be extended if necessary. In normal circumstances, the notice of termination period is usually the time between pay periods, up to a maximum of 30 days.  An employee may be terminated for economic, performance or disciplinary reasons. In the event of unfair dismissal, an employee has the right to appeal the decision to the Chief Labour Officer. If not settled at this level, the case is elevated to the Employment Rights Tribunal for final determination.

Workers may exercise their right to join a labour union of their choice. In such instances, terms and conditions are determined by collective agreement.
The Labour Department is responsible for the enforcement of labour legislation. It also provides other services such as workplace inspections, investigation of complaints and industrial relations training, among others. The Department has ratified several ILO conventions including Safety and Health at Work, Protection of Wages, Equality of Treatment, Minimum Age, and numerous others.

Wages
The national minimum wage in Barbados is BDS$340 (US$170) per week.
Nevertheless, certain industry norms have been accepted over time. The list below provides an overview of wages/salaries across select industries.
Normal working hours are 40 hours per week. Barbados observes 11 public holidays per year and employees are allowed these days off with pay. Adequate notice must be given if overtime is required. It should be noted, however, that the following holidays are closed for business:

Good Friday
Easter Sunday
Independence day

Christmas day
Prices
| | Unit | Value | Year | Comment |
| --- | --- | --- | --- | --- |
| Senior Manager | USD | 4,560 - 8,000 | 2020 | per month plus benefits including company vehicle, entertainment allowance, pension, medical insurance, etc. |
| Middle Manager | USD | 2,500 - 5,000 | 2020 | per month plus benefits including travel allowance, medical insurance, mobile phone, pension |
| Engineer | USD | 2,500 - 5,000 | 2020 | per month plus benefits including medical insurance |
| Systems Analyst/Programmer | USD | 2,000- 5,000 | 2020 | per month plus benefits including medical insurance |
| Skilled Technician | USD | 1,500 - 2,500 | 2020 | per month plus benefits |
| Executive Assistant | USD | 1,825 - 2,600 | 2020 | per month plus benefits including medical insurance and pension |
| Administrative Assistant | USD | 1,500 - 2,500 | 2020 | per month plus benefits including medical insurance and pension |
| Assembly Worker | USD | 290 - 375 | 2020 | per week plus benefits |
| Customer Service Representative | USD | 325 - 390 | 2020 | per week plus benefits |
Non-wage benefits
Barbados labour legislation makes provision for certain non-wage benefits which must form part of the employment contract, as outlined below.

Non-wage benefits to be provided by an employer
| Benefit | Amount |
| --- | --- |
| Annual sick leave (doctor's certificate required after 3rd consecutive day) | 6 days |
| Annual vacation leave with pay | 3 weeks after first year of employment and 4 weeks after 5 years |
| Overtime (voluntary) | 150% of wages for work in excess of 8 hrs on a normal day; 200% for off days and public holidays |
| Severance pay ( must complete at least 2yrs service to be eligible) | 2.5 wks/yr for first 10 yrs, 3 wks/yr for next 10 yrs and 3.5 wks/yr for next 13 yrs |
Social security and other contributions
All employers, and employees over 16 and under pensionable age, are required to contribute to National Insurance payments. Employees' contributions are deducted from their wages/salaries on maximum insurable earnings of BDS$4,650 (US$2,325) per month or BDS$1,072 (US$536) per week.

Barbados has a reciprocal agreement with some countries regarding national insurance contributions. Under this arrangement investors who make payments in their respective home countries are not required to pay in Barbados.

The scheme is managed by the National Insurance and Social Security Department, one of the agencies with which employers are required to register at the start of operations.
National insurance contributions
| National Insurance Department | Employer % | Employee % |
| --- | --- | --- |
| National insurance | 6.75 | 6.75 |
| Non-contributary | 2.00 | 2.00 |
| Employment injury | 0.75 | -- |
| Unemployment | 0.75 | 0.75 |
| Training fund levy | 0.50 | 0.50 |
| Severance fund | 0.50 | -- |
| Catastrophe fund | -- | 0.10 |
| Vacation and public holidays | 9.00 | -- |
Social Security
Sickness benefit
The first three days of sick leave are considered "waiting days" and are not eligible for benefit unless the illness extends for two weeks or more. To qualify an employee must satisfy the following conditions:

have paid no fewer than 7 contributions in the contribution quarter before the quarter in which they became ill
have been working before becoming sick, or
have no fewer than 39 contributions paid or credited to their account in the four consecutive quarters ending with the quarter before the quarter in which they became ill
The daily rate for the benefit is 66.6 percent of average insurable weekly earnings, divided by 6.
Maternity benefit
The Employment of Women (Maternity Leave) Act, CAP 345, guarantees expectant mothers maternity leave of 12 weeks once they have been employed for a minimum of 12 months. An employee's seniority rights, reinstatement to her former or equivalent work and rate of pay are all guaranteed under the Act.
The daily rate for this benefit is 100 percent of average insurable weekly earnings, divided by 6.
Jury duty
The Juries Act, CAP 115B provides for employees to be granted paid leave when summoned to serve on the Jury. Employees are required to report for work when excused from duty.

Contributory old age pension/grant
To qualify for an old age contributory grant a person must be of pensionable age and have at least 50 contributions paid or credited to their account. The grant is a lump sum payment equal to 6 weeks average insurable weekly earnings for each 50 contributions actually paid or credited to the insured person's account.

To receive a pension an individual must have at least 150 contributions actually paid into their account and a total of 500 contributions paid or credited to that account. Pension reform was implemented on January 1, 2003. Therefore, pension calculations depend on the individual's age on December 31,2002, the day prior to implementation.

Invalidity benefit/grant

To qualify for a grant a person must be under the pensionable age; be permanently incapable of working because of a specific disease or physical or mental disability and have at least 50 contributions paid or credited to their account. The grant is equal to 6 weeks out of every 50 (weekly) contributions credited to the person's account.
Work permits
With the exception of qualified CARICOM nationals, work permits are required for non-nationals to live and work in Barbados. Work permits are approved by the Immigration Department.
The employer must submit an application for a work permit on behalf of a prospective employee and must satisfy the immigration authorities that the individual possesses special skills not available in Barbados. The employer is also required to advertise the position to be filled for a period of two weeks, following which an Objection Notice must be placed in the local press to allow the general public an opportunity to respond. There are two types of work permits:

Long term: for managerial and administrative positions and are normally granted for three to five years. Provided that all documentation is in order, approval may be granted within 3-4 weeks. Additional scrutiny may be applied where there is more than one permit requested .

Short term: for artisans, labourers, etc., and are granted for a maximum of 11 months. May be approved within 2-3 days.
On approval, the employer pays the required fee and the Immigration Department affixes the appropriate stamp in the employee's passport. A work permit is renewable but non-transferable. If employment with the original employer ceases, the work permit is cancelled. Renewal of work permits may be subject to a requirement to localize the position in due course.
A spouse is granted an extension of stay for a period matching that of the work permit holder. Children of school age are issued a student visa on being offered a place at an educational institution.

Owner-managers of businesses are required to apply for a long term permit.
CARICOM nationals who possess a certificate of recognition from their home country, are permitted to remain in Barbados for an initial period of six months. Provided that the certificate is verified by the Barbados Accreditation Council, such individuals may be granted CARICOM skilled national status enabling them to work in Barbados. Such persons also have the right to establish a business under the Treaty of Chaguaramus as set out in the CARICOM Community Act.

Permanent residence may be granted to persons who have operated businesses and established themselves in Barbados. They may apply for citizenship after seven years as permanent residents.

Special entry permit
Barbados does not offer a citizenship by investment programme currently. However, high net worth individuals wishing to spend more of their time in the country or to make it a second home, may be granted a special entry permit (SEP) on investment of a minimum of US$2 million in real estate or securities. Such persons must also satisfy certain other conditions including proof of good character. The SEP programme is administered by the Immigration Department.

Welcome Stamp Visa
The Barbados Welcome Stamp was introduced in June 2020 for remote workers who wish to live and work in Barbados.  It is a special 12-month visa for non-nationals who are resident and employed in a country other than Barbados, during which time the visa holder is allowed to travel to and from Barbados freely, from the date of first arrival. 

What investors think
Investors praised the quality and skills in the local workforce, which were seen to compensate wage costs. It was noted that time should be set aside when seeking approval for work permits, sometimes up to six months. Labour laws are considered fair, although for certain industries, closed days may result in lost productivity.